News and Upcoming Events
SPRING EXHIBITION
MACLEAY VALLEY COMMUNITY GALLERY ~GLADSTONE
18-29 NOVEMBER 2020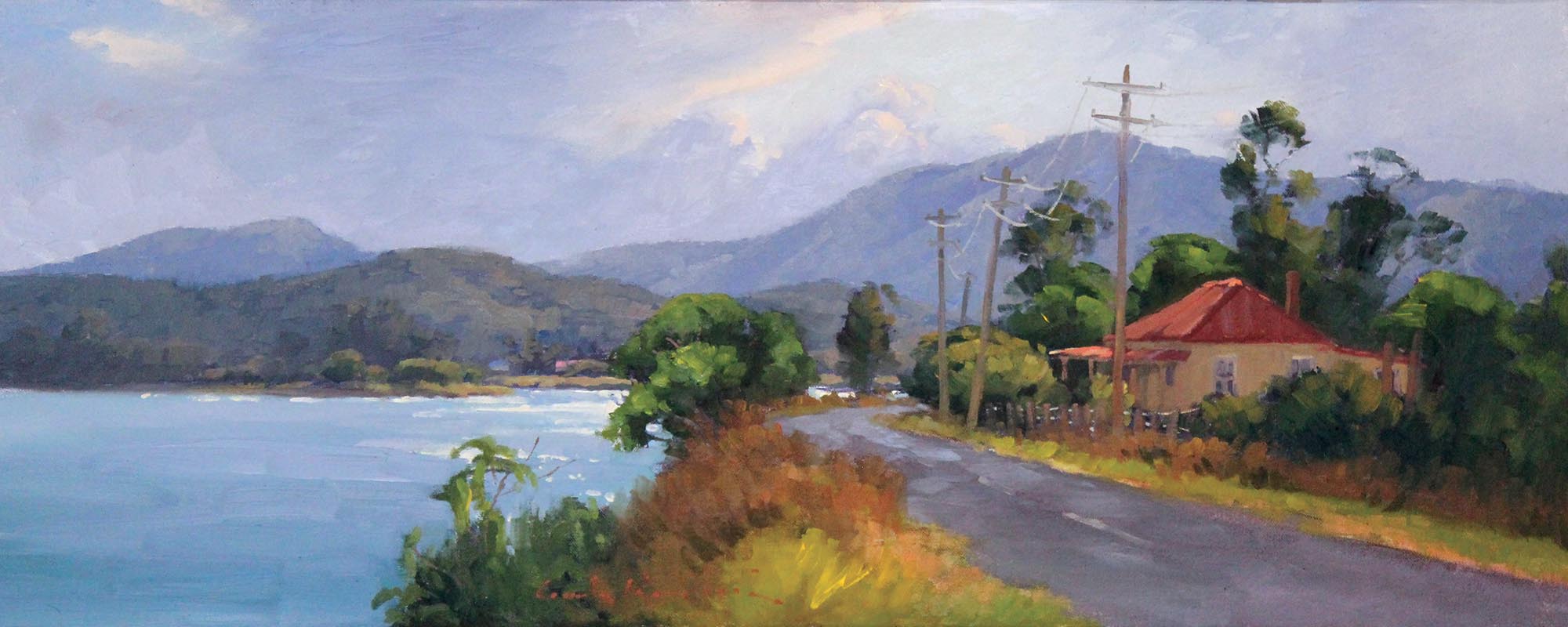 "Morning Sparkle Kinchela"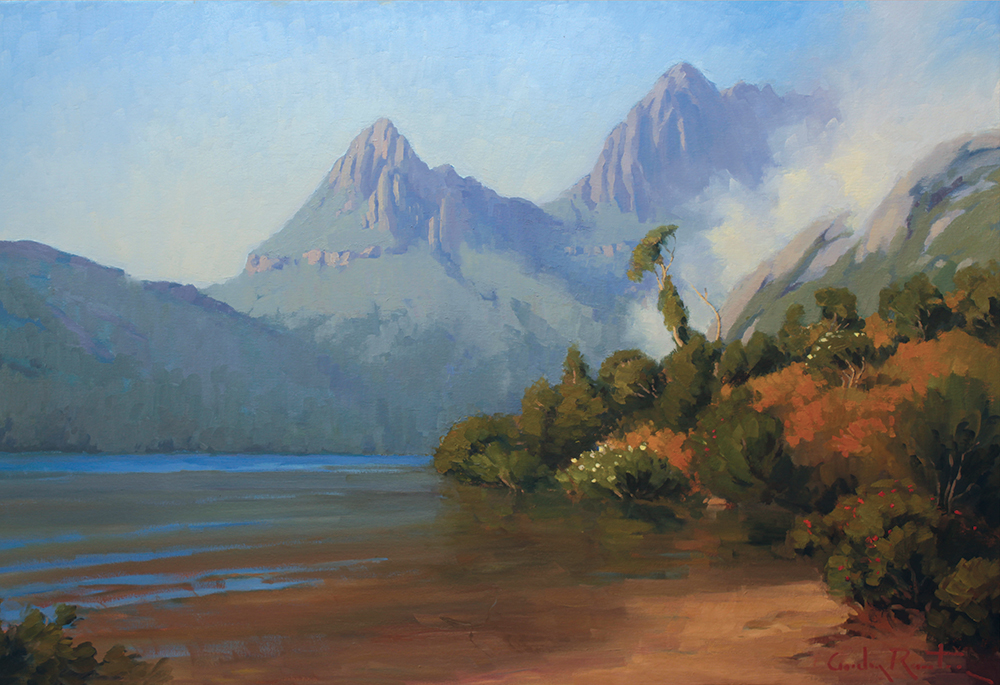 ANNUAL EXHIBITION
"From Toorooka to Tassie"
Macleay Valley Community Art Gallery
Gladstone NSW
15-26 November 2017
open Wednesdays _ Sundays 10.30am - 4.00pm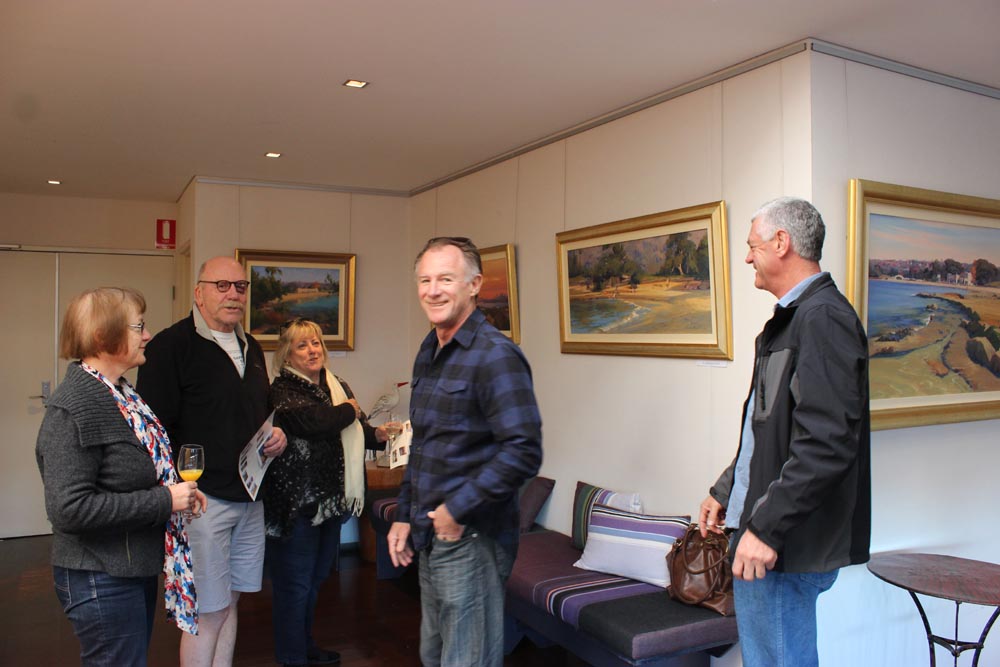 BALMORAL BEACH ART EXHIBITION
@THE BATHERS' PAVILION
OPENING DAY
JULY AND AUGUST 2016 (open restaurant hours every day)
ANNUAL EXHIBITION
MACLEAY COMMUNITY ART GALLERY
GLADSTONE NSW
19-29 November 2015
Thursdays ~ Sundays 10-4.30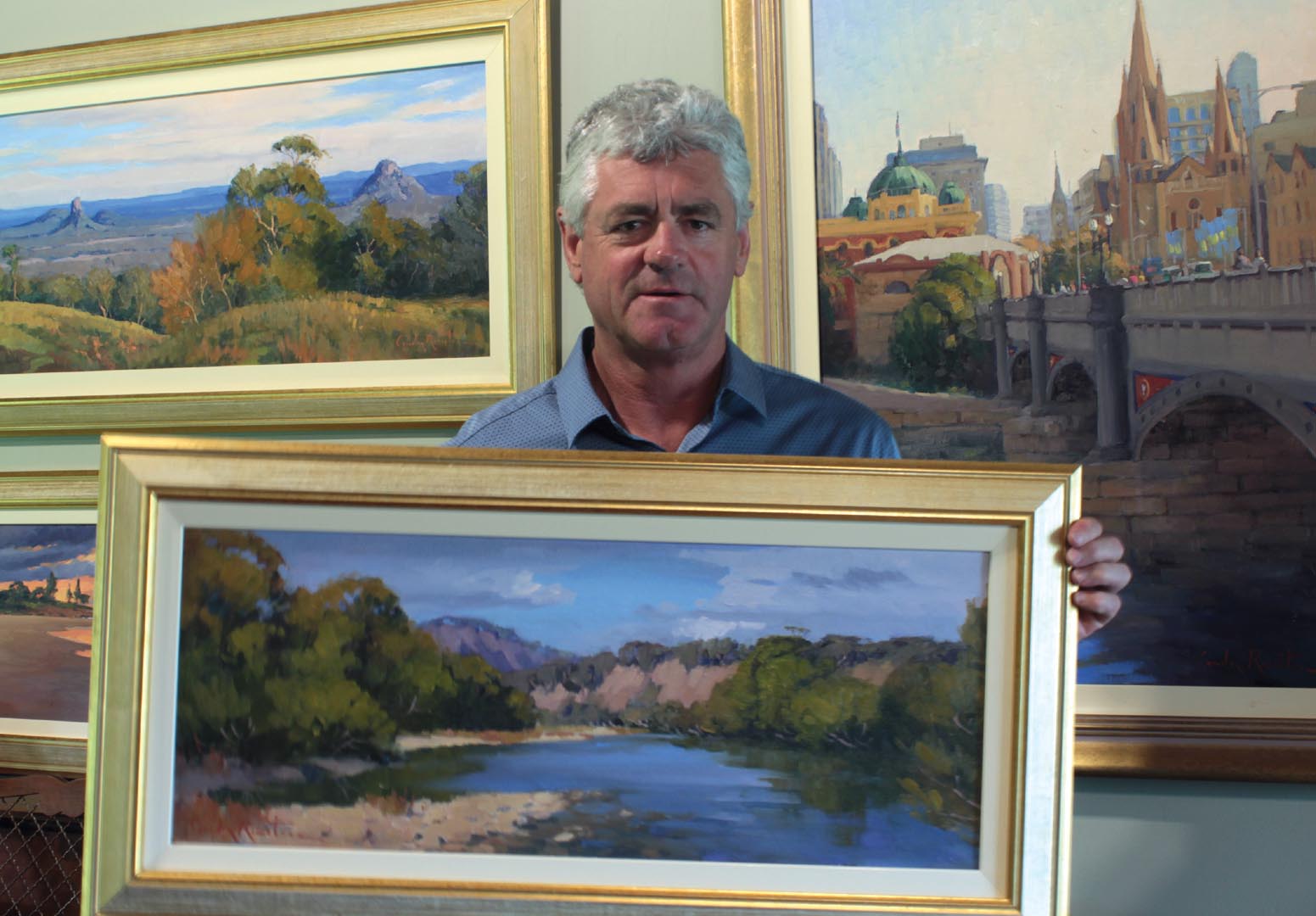 BALMORAL BEACH EXHIBITION
July - August 2013
The Bathers' Pavilion
4 The Esplanade ~ Balmoral ~Sydney
Open day Sunday 6 July
everyone welcome

"Island sunrise" 90x35cm
ANNUAL SUMMER EXHIBITION
20 November -1 December 2013
Macleay Valley Community Gallery- Gladstone NSW (10.00am- 4.30pm)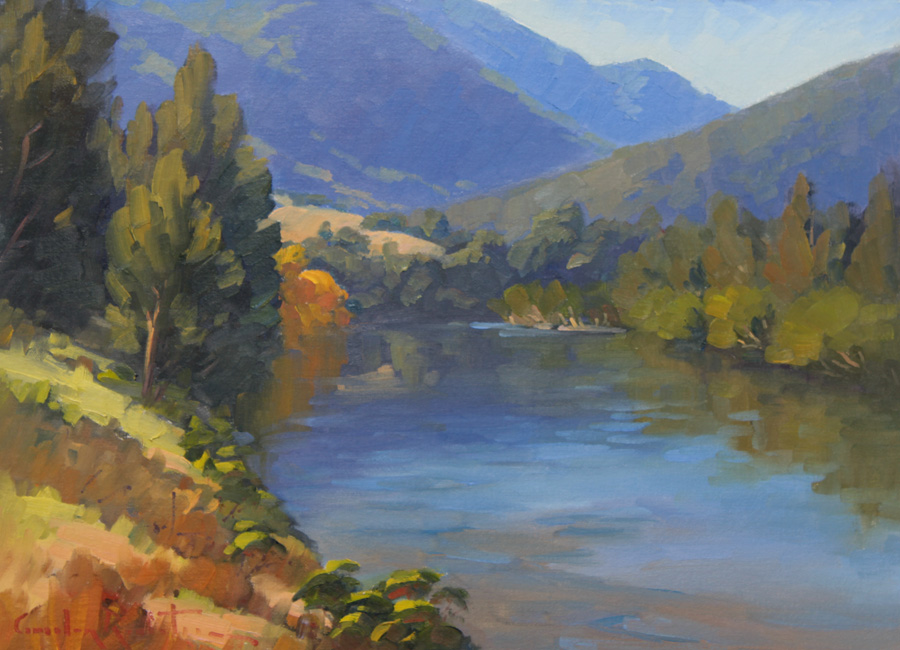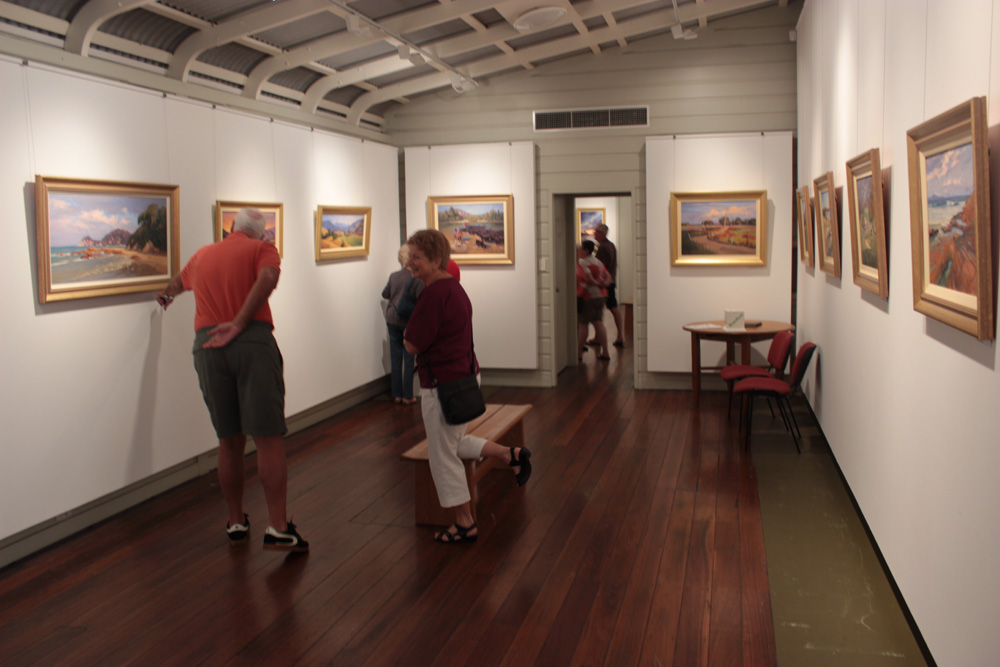 Thank you to all those who came to our annual show and helped make it such an enjoyable two weeks
SOCIETY OF ARTISTS WORKSHOP 29-30 JUNE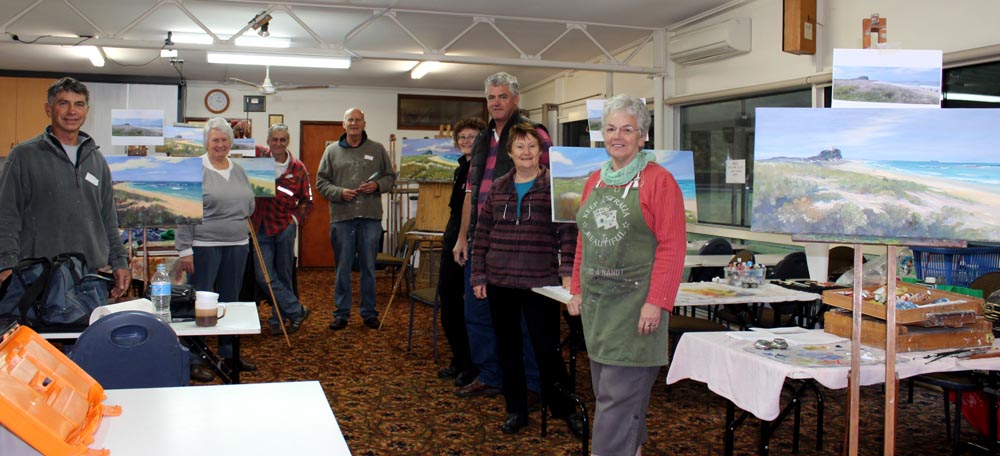 A very enjoyable week end in Newcastle with some fine paintings completed
EXHIBITION TAMBURLAINE WINERY APRIL - JUNE 2013
358 McDonald Road Pokolbin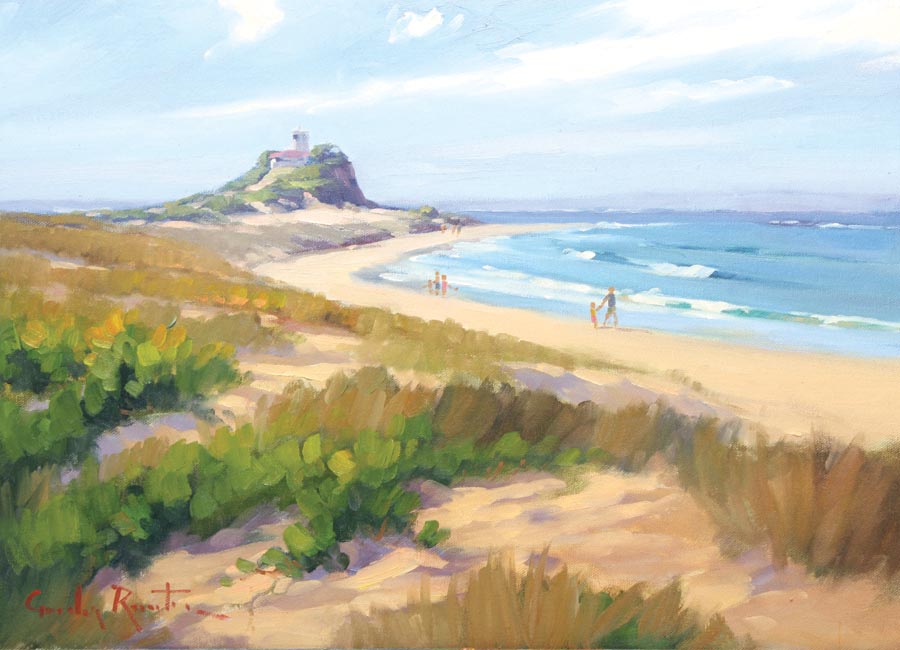 "Nobby's Beach Newcastle" 50x37cm $1150
NULLA NULLA CREEK WORKSHOPS 2013
We are running 5 day workshops from our Nulla Creek property starting this autumn, student numbers will be
limited to around 5-6, guaranteeing personal tuition.
Accommodation will be in the property homestead and most of the painting will be done in the privacy of the 900 acre property (see the photos below),
The cost is $550 which will be for accommodation and tuition but not meals (meals and food supplies will be a combined effort).
The next workshop is on 14 -18 October (full),
Please send in an expression of interest if you are interested in participating in upcoming workshops to gjrossiter@bigpond.com
we have workshops planned for next autumn 2014.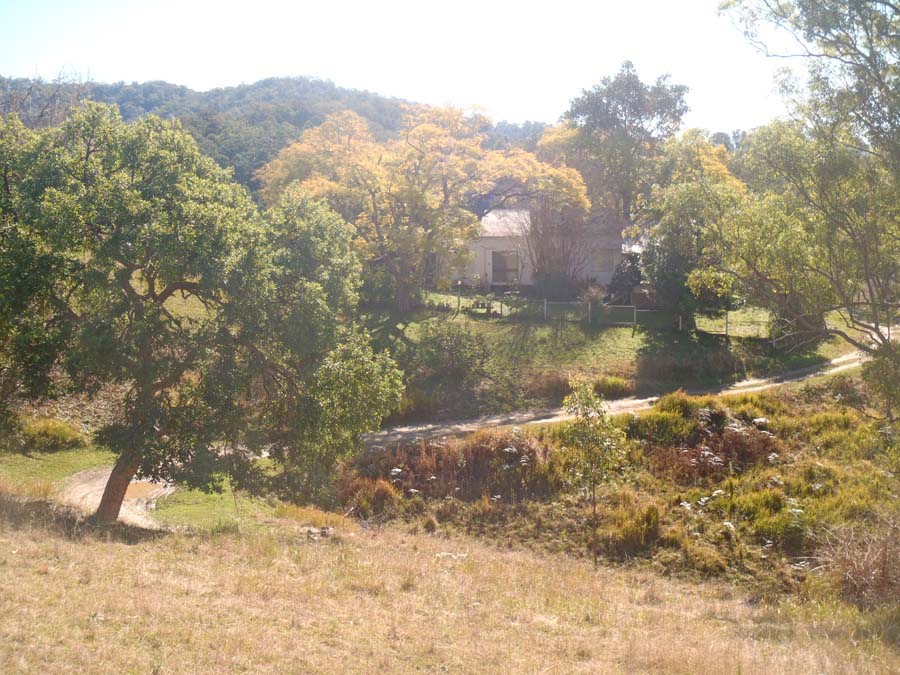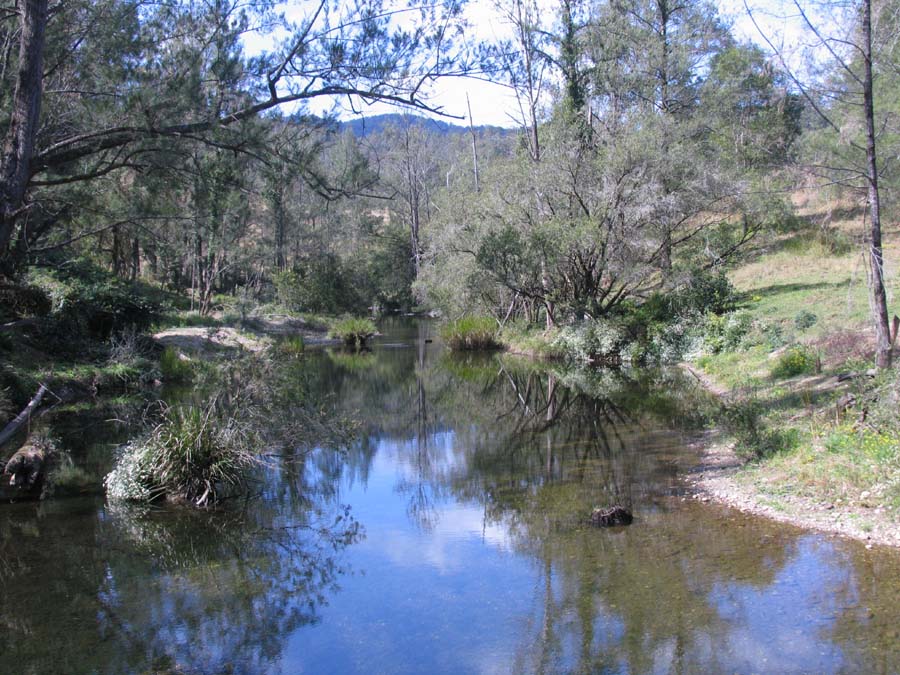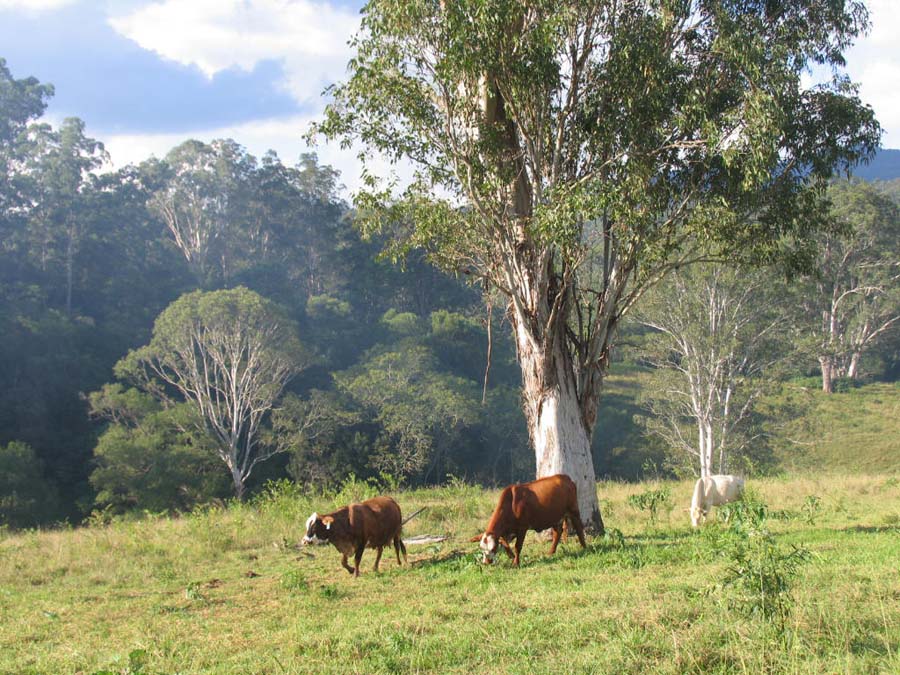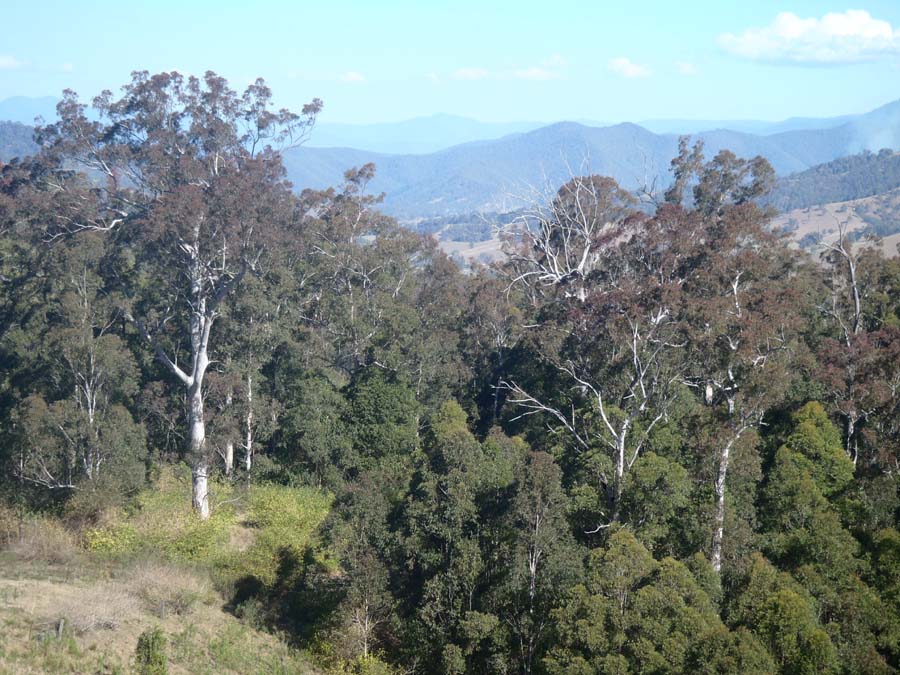 The first workshop is over and everyone enjoyed the week at "Kogal", the weather was kind and there was a fine group of paintings done.
Places are available for September and October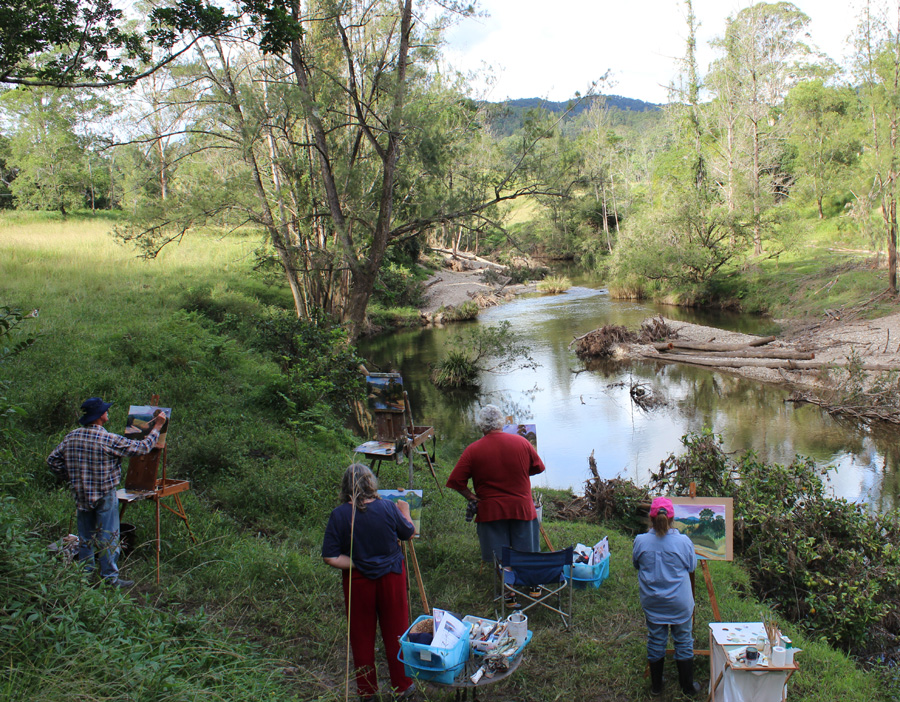 Afternoon by Nulla Nulla Creek April 2013
"Congratulations on your workshop it was a pleasure to paint with a group of people who had similar goals of improving their painting skills. I thoroughly enjoyed every minute spent at your property at Nulla Nulla and the day we spent painting plein-air down by the creek was special..
From a technical perspective it was good to watch you work and the emphasis you placed on establishing the correct tones. I now understand i need to be more considered in my approach to really looking and establishing the tonal balance and to be far for patient in how I apply the paint , make a considered mark move on and not rework.
Again thank you for a great week."
Cheers..........Alan.
ALPINE PAINTING WORKSHOP
@REDBANK LODGE - THREDBO
Monday 21 January - - Friday 25 January 2013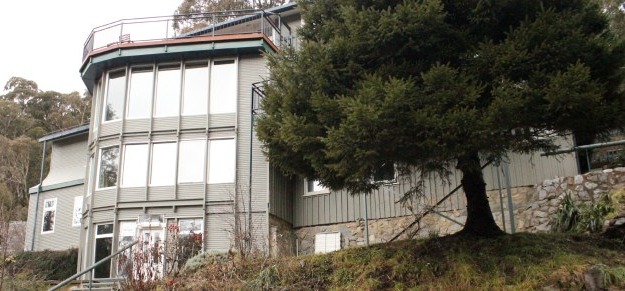 Students will have 5 days of painting and enjoying the Thredbo Valley whilst being tutored by Gordon Rossiter.
Redbank Lodge will be our base and will provide all meals and accommodation from Sunday evening 20 January until the following Saturday morning.
Non-painting partners are most welcome.
Students will not need previous painting experience, however will need a reasonable level of fitness as we will be painting on site and exploring the surrounding country side.
The cost for the workshop is $1150, being for all meals, accommodation and tutorial, non- painting partners $600 (does not include National Park vehicle fees $16/day and lift passes aprox. $30).
A deposit of $250 will secure your place , the numbers are limited to ensure individual tutoring, applications close 15 November 2012 or when class is full.
Please note that the deposit is not refundable except for extenuating circumstances, however it is refundable if the organizers cancel for any reason
Please contact us for more information and to book and www.redbanklodge.com.au for information on the lodge.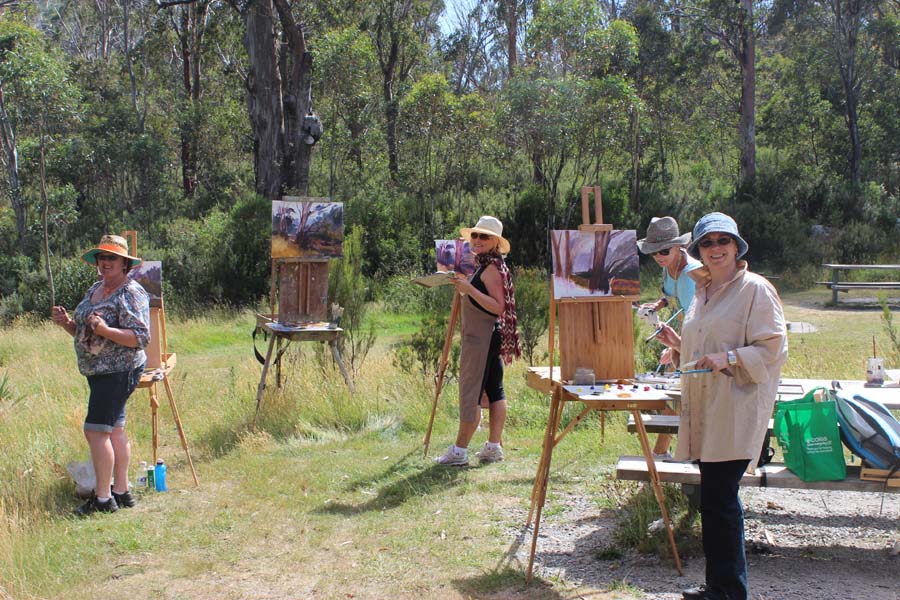 We enjoyed fine weather and good conditions for outdoor work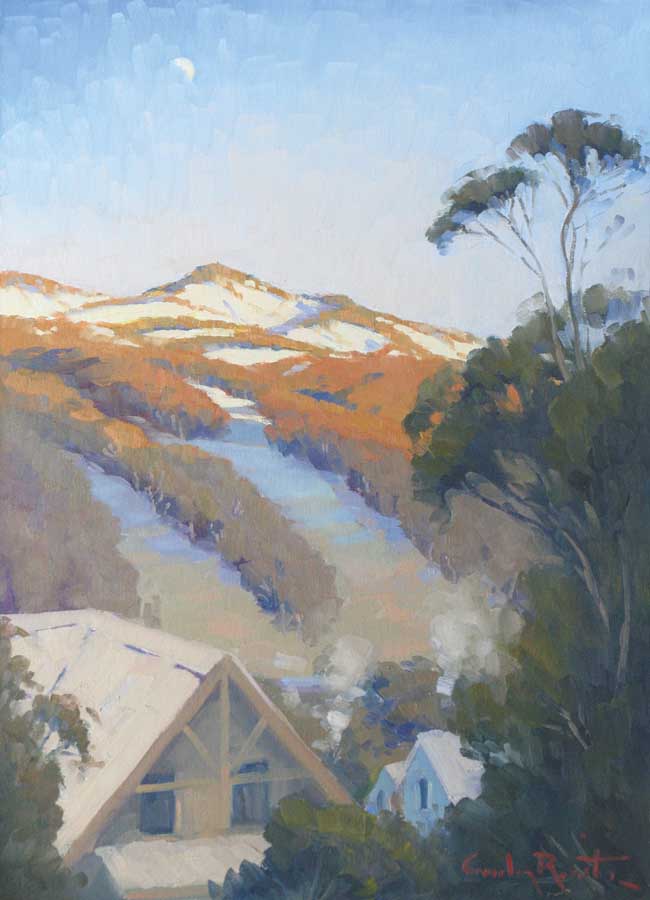 AUSTRALIAN ALPINE EXHIBITION
REDBANK LODGE - THREDBO
Opening Saturday 9 June 2012 and running all winter
24 NOVEMBER - 4 DECEMBER 2011
ANNUAL SUMMER EXHIBITION - MACLEAY VALLEY COMMUNITY GALLERY - GLADSTONE NSW
open 10.30am- 4.30pm every day except Monday and Tuesday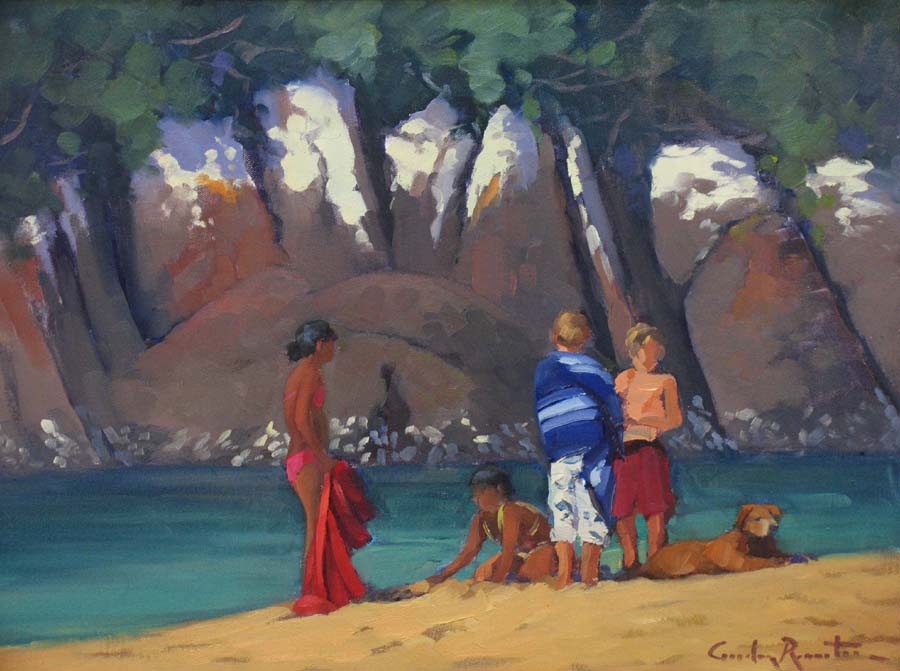 JULY- AUGUST EXHIBITION
The Bathers Pavilion - Balmoral Beach -Sydney
KINGS CANYON WORKSHOP 31 MAY- 5 JUNE
An unforgettable painting experience in outback Australia, staying at the Kings Canyon Resort, Northern Territory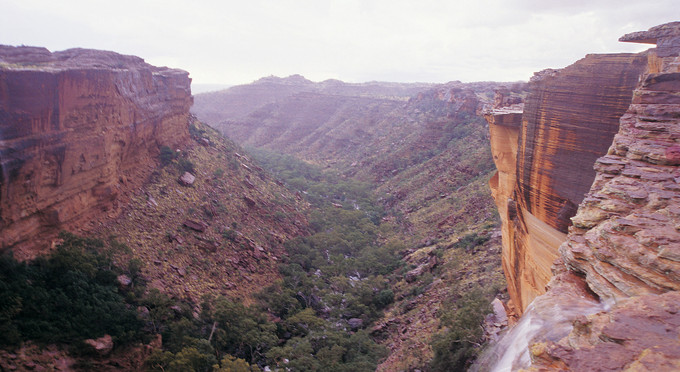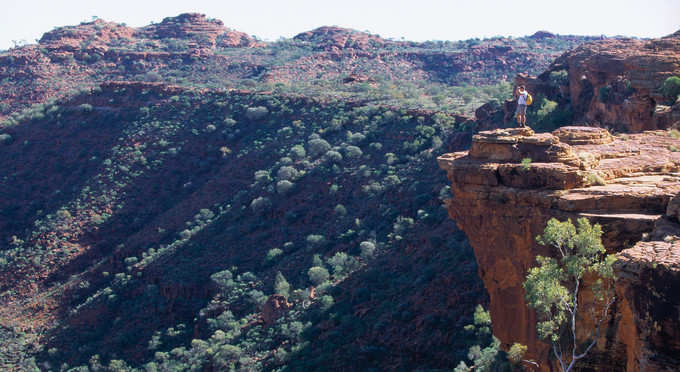 for more information contact Kings Canyon Resort
DECEMBER 4-19 SUMMER ART EXHIBITION Macleay Valley Community Art Gallery- Gladstone
open 10.30am - 4.30pm Thursday - Sunday

JULY - AUGUST 2010 Annual exhibition at the Bathers Pavilion Balmoral Beach
DECEMBER 12- 20 ANNUAL ART EXHIBITION Macleay Valley Community Art Gallery - Gladstone
open 10.30am - 5.00pm daily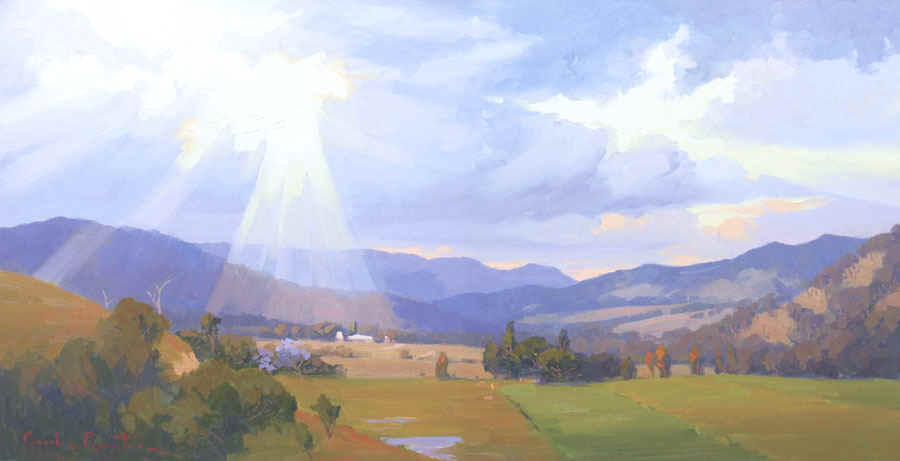 US Trip November and December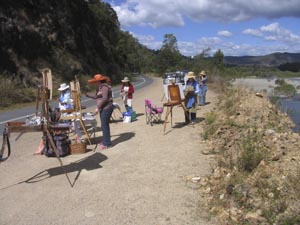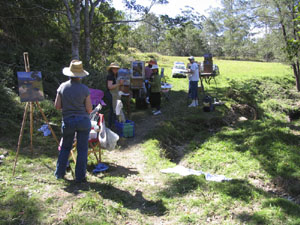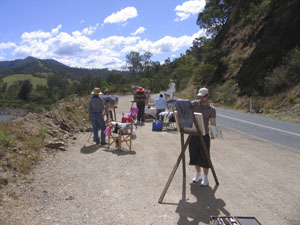 Photos from 2009 Bemurrah workshop
JULY - AUGUST 2009 BALMORAL BEACH EXHIBITION @ THE BATHERS PAVILION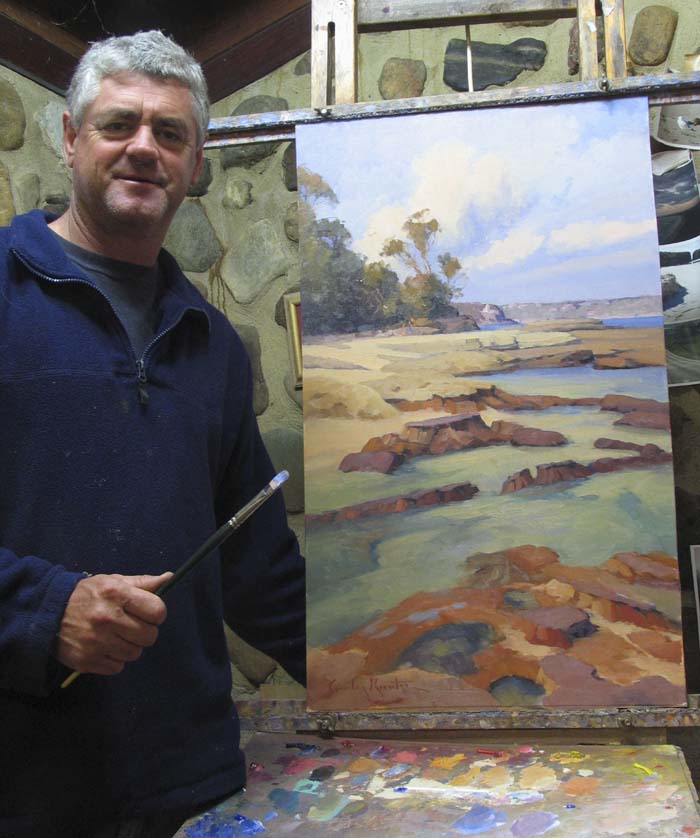 For more information go to Balmoral Beach Exhibition page
I had the pleasure of working with indigenous artist Elwyn Toby on the mural for Bellbrook School this autumn.
DECEMBER 4 -21 2008 ANNUAL EXHIBITION AT THE MACLEAY VALLEY COMMUNITY GALLERY GLADSTONE
Open 10.30am until 5.00pm Wednesday - Sunday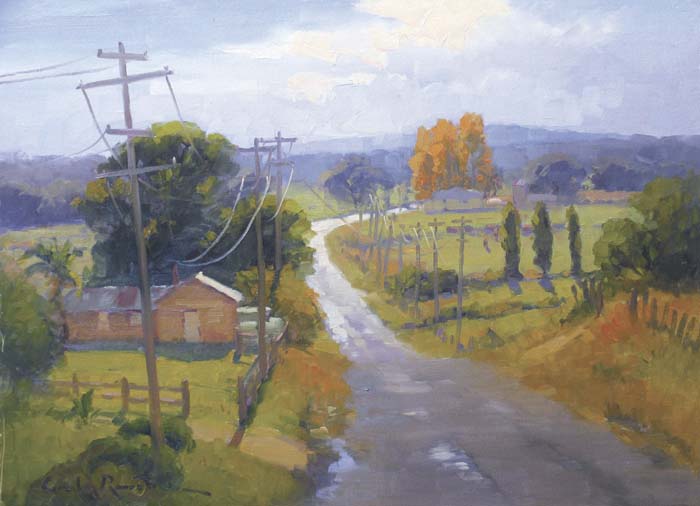 "Sparkling morning Austral Eden"
To see more paintings from the exhibition go to Painting Gallery One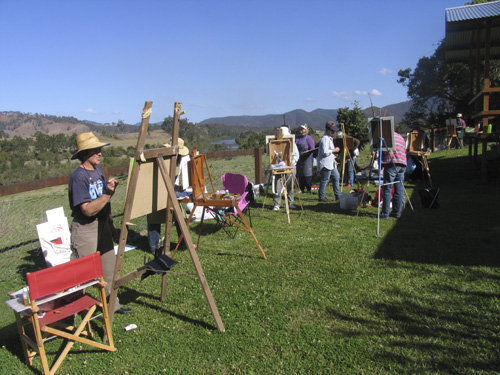 The weather was perfect and we all had a great time at "Bemurrah".
We are planning to have another workshop there early September 2009
SEPTEMBER 8 -12 2008 5 day Workshop on the Upper Macleay
Stay and paint with Gordon at Bemurrah Homestead at Pee Dee in the Upper Macleay Valley. Only 15 minutes to the West of heritage village Bellbrook the property is nestled on a bend of the river with breathtaking scenery in every direction. This will be an ideal opportunity for anyone wishing to learn how to paint the landscape or to brush up on your skills.
We will be painting on site, weather permitting.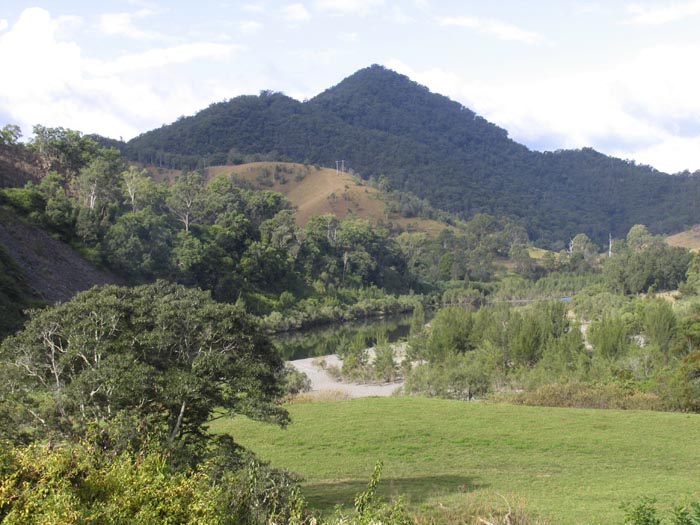 www.bemurrah.com.au
NOVEMBER 29 - DECEMBER 9 2007 Exhibition at the Macleay Valley Community Art Gallery
5 Kinchela St. Gladstone NSW
Open 10.30am - 6.00pm daily Thursday 29 until Sunday 9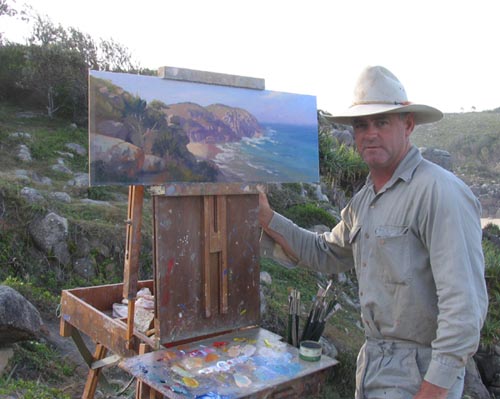 On site at Arakoon headland, South West Rocks working on a painting for the exhibition
JULY -AUGUST 2007 Exhibition the Bathers Pavilion
4 The Esplanade. Balmoral Beach. Sydney
go to Balmoral Beach Exhibition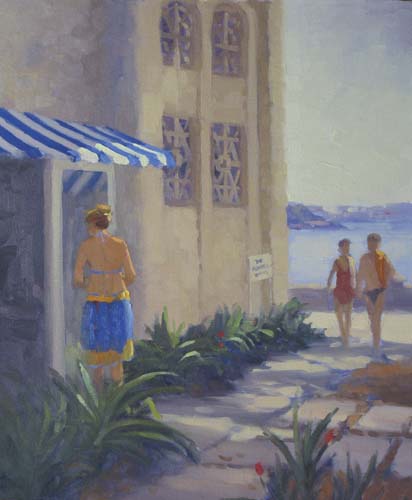 APRIL 2007 - Camberwell Rotary Art Prize
"Limeburners Creek oyster lease" gains a Highly Commended Award at the prestigious Camberwell Art Prize
in Victoria, over 3,000 paintings are submitted for competition.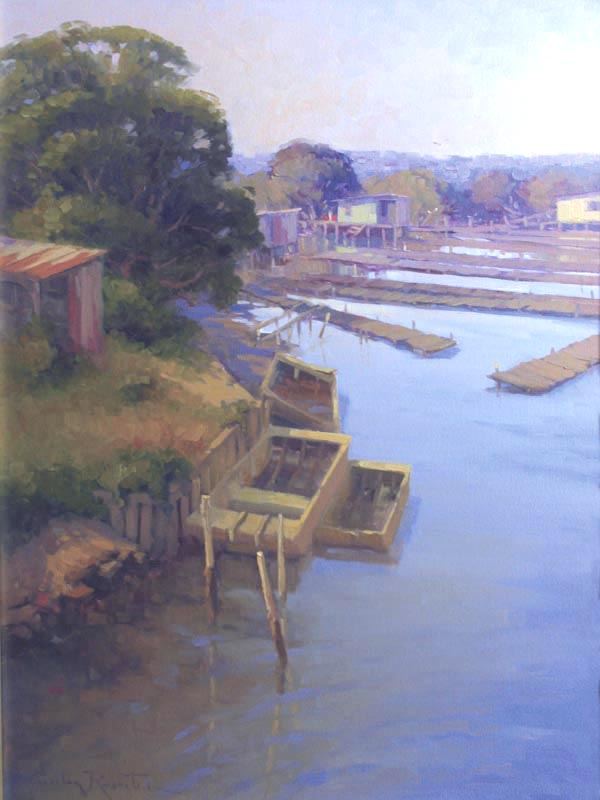 DECEMBER 2006 - JANUARY 2007 Exhibition Sails Resort
20 Park St Port Macquarie (opposite SettlementCity)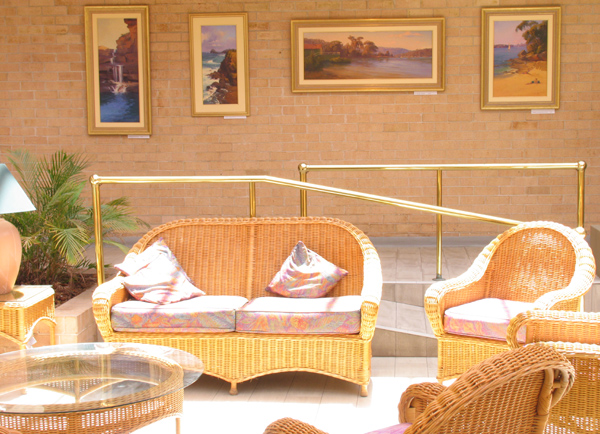 OCTOBER 2006 - Gordon wins the Adelaide Swift Art Award at South West Rocks with
the painting "Low tide Karuah"
AUGUST - SEPTEMBER 2006 - Balmoral Beach Exhibition

NOVEMBER 20th - DEC. 4th '05 Annual Exhibition -- locally

This year the Spring Exhibition is going to be held at Beaches Cafe - Mediterranean Motel - in Gordon and Jaynes hometown of Crescent Head.

OCTOBER '04 First prize - oil or acrylic - Adelaide Swift Art Prize with the painting "Grasstrees and Banksias" which was painted onsite along the track from Maguires Crossing to Hungry Head in the Hat Head National Park

This exhibition will feature around 30 new paintings with many of the local area --see the new painting gallery

APRIL 17 '03 Gordon wins the Heritage Prize at Port Macquarie's Easter Art Exhibition with a painting of the Port coastline ( From Windmill Hill ).