Artist Profile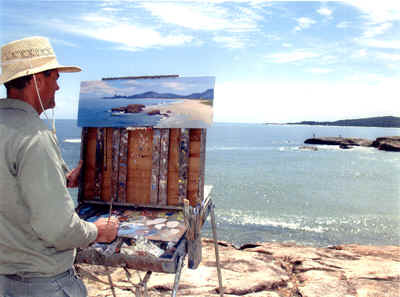 " Painting has taught me to appreciate the landscape and watch for those fleeting glimpses of magic ''
Gordon Rossiter
Welcome to the Artist Profile Page
Gordon Rossiter is an Australian artist who began painting fulltime in 1987.
Since then he has had over 20 solo exhibitions and won numerous awards in Australian art competitions including the Port Macqarie Easter Art Prize in 2005 , the Hastings Heritage Award in 2003, the Macquarie 2000 Award in 1998 and the inaugural Adelaide Swift Award in 2000 and 2006.
His work has been purchased by a wide range of art collectors from Australia and overseas.
Gordon had an unusual introduction to painting, a horse riding accident left him with too much time and not enough to do, so he started painting, often painting his friends riding bulls and horses in rodeos.
Painting progressed to landscapes of his local area ,the Macleay Valley on the North Coast of New South Wales.
He recommenced rodeo riding, competing in bull riding and roping until an arena accident put an abrupt end to the bull riding.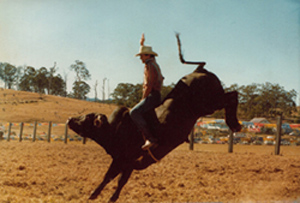 He went on to win the Australian Roping Title in 1985 and represented Australia in the USA in 1982.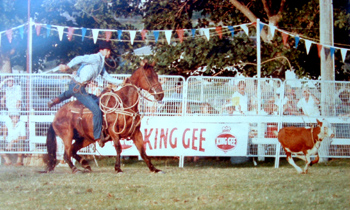 Gordon, his wife Jayne and three children live near Crescent Head on the North Coast of N.S.W . Australia in a stone cottage they built in the early 90's.
Much of the on site work he does is no more than an hours drive from their home, however he tries to visit and paint at least one new area a year.
He is a respected art judge and tutor.
Well known galleries in Sydney and the Hunter Valley hang his work, which can also be seen at the Rockpool Resort and Gaol Break Cafe , South West Rocks ,Sails Resort , Port Macqarie and Di's Barbershop in Narrabeen
The Rossiters hold an annual Exhibition of Gordon's new work in the Spring and exhibit annually at The Bathers Pavilion Gallery at Balmoral Beach, Sydney.
Paintings can also be seen at his studio, however please phone ahead for an appointment on 02 65660669
Gordon specialises in commissioned paintings and has successfully completed many for both private and corporate clients, please feel free to contact us if you would like Gordon to paint one for you. Any paintings or prints purchased through our website come with a 21 day satisfaction or money back guarantee (not including overseas sales - however every effort will be made to show prospective purchasers the true colours of the artwork and the frame).